Change Map lists just the maps on your account which cover the centre of the map you are currently viewing.
On desktops, at the bottom of the Change Map menu is an item 'My Maps' which takes you into the 'My Maps' window where you can access and manage your maps. On Mobiles My Maps is accessed via the Menu button bottom right of the map screen, and then by tapping on Manage Maps.
To expand on the above explanation, if you say only own a Lake District 1:25,000 scale map, then if you have say the OS Road Map open and are above the Lake District, and open Change Map, you will see the OS 1:25,000 option available to you. Tap on it, and you will be in the same location, but now viewing OS 1:25,000 mapping instead of the OS Road Map. If you change back to the OS Road Map, and now move the map away from the Lake District, say until Manchester is now central on the screen. Now when you go to the Change Map menu, OS 1:25,000 will not be listed, as you don't have any OS 1:25,000 mapping for Manchester. In this way the list is geographically sensitive and just offers up maps you can access at your current location.
The Change Map menu works by filtering any maps you have access to, be they the free maps (OS GB Map, OS Road Map etc), Demo maps (small areas of mapping available so you can see what a map type looks like on your device), purchased maps and subscription maps.
The Change Map functionality works exactly the same across iOS, Android, PC and macOS, but is accessed slightly differently on the mobile devices.
On the PC and macOS, simply tap on the map type drop down box on the toolbar as the PC image below shows: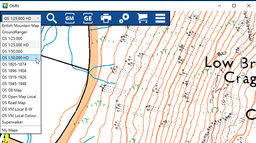 On iOS and Android, simply tap on the Menu button (3 lines icon) at the bottom right of the map. On the menu that pops up, the top option is 'Maps at Current Location':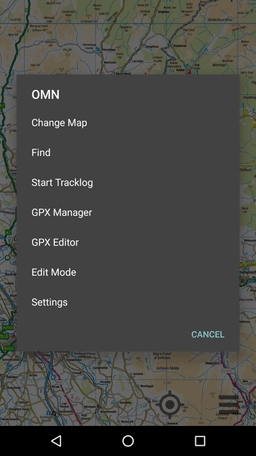 Tap on Change Map, and you will get to the list of available maps at your current location, an example of which is shown below.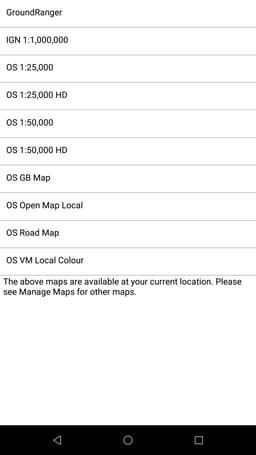 The above maps are available at your current location. Please see Manage Maps for other maps.