Working with the My Maps screen
The My Maps screen allows you to have easy access to your maps – to view them, Sync your maps with Anquet Cloud, to download maps for offline use when available and to remove maps from your device to free up space.
The My Maps screen is the same on iOS and Android. The PC and macOS are slightly different. However, all four do the same tasks, and the fundamentals are the same.
On the PC and macOS, click on the map drop down on the toolbar, scroll to the bottom of the list, and click on 'My Maps'
On iOS and Android, tap on the Menu button and tap 'Manage Maps'
A PC and Android screenshot are shown below:
PC: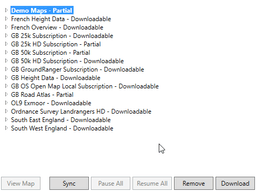 Android: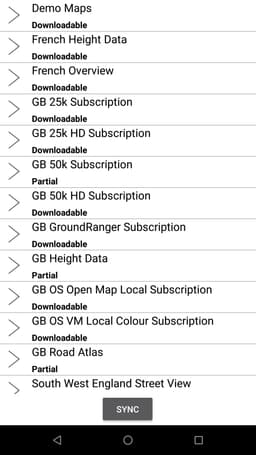 IMPORTANT : In both images above, you are looking at a non-expanded list of map products on your account. To expand a product to see the maps it contains, on PC/macOS click on the little triangle to the left of the product name. In iOS/Android tap on the product to expand it. In the two screenshots below, we have expanded the Demo Map product:
PC: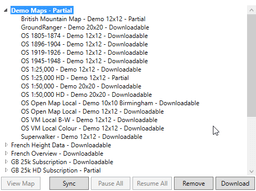 Android :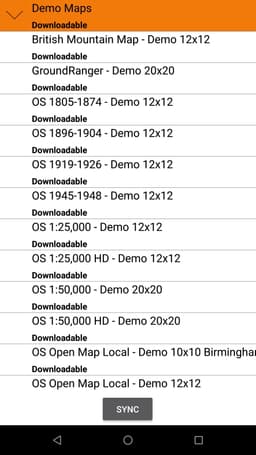 On PC/macOS - click on a map, and then the buttons will become enabled to Download, Remove etc. On iOS/Android, tap on a map, and list of options will be displayed.
Working with Multiple Maps
Please be aware that when downloading multiple maps, you can easily fill up the available storage. Approximate map storage requirements can be see on this link: Map Data Storage Requirements.
If you are using an Android device, you may wish to move your maps to an SD card if you have one - please see this link: Android SD Cards.
On a PC, Settings->My Account give you the option to change the drive where you map data is stored.
On both desktop and mobiles you can either work with individual maps, or you can work with a complete product. So for instance, looking at the screenshot above, if you tap on one map, you will be given the option to download that map. However, if you would like to download all of the maps in the Demo Maps product, then on the PC simply highlight the product and use the buttons at the bottom of the My Maps screen. On mobiles, long press on the product, and you will get a menu up from which you can tap on download. This will queue all of the maps up for download.