A tracklog is simply a recording (track) of the path you travelled on the ground..
For additional background on tracklogs, please see the following article on GPX files: What is a GPX file.
To start a tracklog in OMN, tap on the menu button (the three lines button bottom right of your screen) and select ´Start Tracklog´.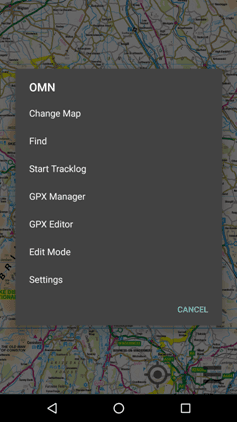 OMN will then start to record a tracklog as per the settings in Settings->GPS Markers and Tracklogs.
While a tracklog is being recorded tapping the Menu button again will bring up two additional options; Pause Tracklog and Stop Tracklog.
Pause Tracklog will do exactly what it says and pause the recording. It will also end the current segment of the tracklog.
Stop Tracklog stops all recording.
Tapping the Menu button while the recording is paused brings up one further option Resume Tracklog as well as the option Stop Tracklog Resume Tracklog resumes the recording of the track and creates a new segment.
A single tracklog is made up of one or more track segments. Each time you pause a tracklog, one segment is finished, and if you then resume a new segment is created within the track. For more details on segments, please see: What is a GPX file.
When a tracklog is recording the GPS Button has a red outer ring or inward arrows to signify this activity. The centre will be green or Orange to signify the quality of the position fix. If you aren't familiar with the GPS button, first of all please read GPS Button

GPS ON & TRACKLOG RECORDING – LOCATION POOR OR DELAYED

GPS ON & TRACKLOG RECORDING – GOOD POSITION FIX

GPS ON & TRACKLOG RECORDING – LOCATION POOR OR DELAYED – LOCATION OFF-CENTRE

Tapping the GPS button at anytime when off-centred will recenter it on the map.

GPS OFF & TRACKLOG PAUSED