Sharing Routes Mobile - iOS & Android
OMN uses the industry standard GPX file format. This means that any other software, website or GPS unit that can read GPX files can easily share data with OMN.
Sharing on mobiles is done via the GPX Manager (GM), in a similar fashion to how it is done on desktops. The big difference is that on desktop operating systems we export to a file, then change apps and load the file we exported. On mobiles, apps are registered to certain file types, and so when you tap on Share, a list of compatible programs are shown from which you select.
Sharing from OMN
Tap on the Menu key (bottom right on the map) Tap on GPX Manager from the list Select a file by tapping on it From the menu that comes up, tap on Share You will now get a screen from your phone operating system letting you choose which app to send your GPX file to.
iOS: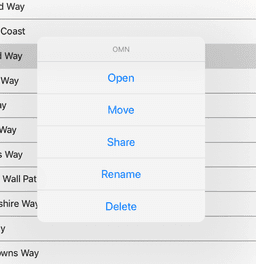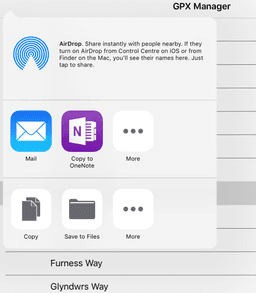 Android: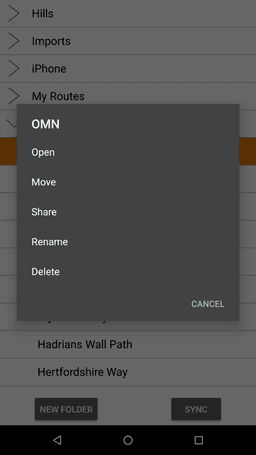 Sharing to OMN
In another app on your iOS or Android device, if you tap on a GPX file and tap on Share, OMN should be listed. How this operates depends on settings you can make within your operating system, such as default apps for certain file types etc. For more details, please contact your device manufacturer.
In an app on your device, tap on Share, and from the list that pops up tap on OMN. OMN will then import the file into a folder inside the GPX Manager (GM) called 'Imports'. It will also open up the file for your ease of use.