Printing – 2 minute getting started guide
This is the two-minute getting started guide. Please see the other printing articles for more information.
The screenshots are from the PC, but macOS is very similar.
Hit the print button on the toolbar (PC), or select Print on the menu (macOS).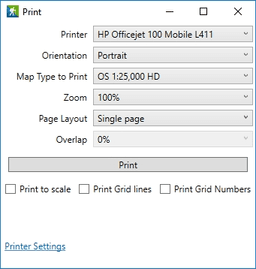 Select the printer you wish to print to. Zoom out on the map until you see the black lines that indicate the mapping to be printed - the Print Area.. This is the zoom on the map you need to alter, not the zoom level on the print box.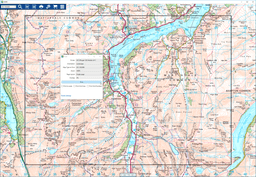 You can now move the map with the mouse as you normally do to scroll the map, and the black printing outline of the Print Area will stay steady – this allows you to line up which mapping you wish to print. Tick the boxes if you want to Print Grid Lines and/or Print Grid Numbers. Press Print.
The key concept to working with scale printing is understanding that the Print Area as depicted by the black outline is the area of mapping to be printed. You can read more about this on Scale Printing Explained.